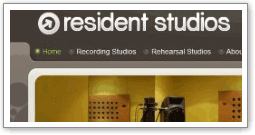 Yes folks, it's the all new Resident Studios website. We have talked about it, promised it, and now signed, sealed and delivered it into you greedy hands. From this very portal you will be able to see and hear the goings on in our busy little corner of London, and hopefully get a much better idea of how we go that little bit further than most studios when getting involved with our bands.
Videos, you say? Well, I'm very glad you spotted them. We now have a fully fledged video production company, and will regularly be showcasing various recording and rehearsal clients from an in-depth, behind-the-scenes exposé, to full-on music videos that can grace the likes of MTV, in the highest HD (1080p for all you techo-geeks).
The main change though, is one of interactivity which reflects the community nature of life at Resident; each of our articles and videos will be able to be commented and we want to hear from you.
So – share and enjoy. We look forward to hearing you.