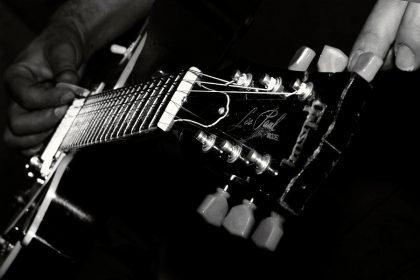 We all know that feeling of excitement when you have finished writing that new track/ep/album and are ready to enter the studio. That feeling can sometimes distract even the best of us from preparing ourselves and getting the most out of our studio time.
This blog post provides you with a checklist of things to remember before entering the studio to record your next hit.
Strings
It is a good idea to restring your guitar before recording as old strings can give a dull tone and sound generally worse then a new set.  It is usually advised to change the strings over at least 24 hours before you enter the studio as this gives them a chance to stretch out so they will stay in tune better.  It is also worth bringing an extra set to your session.
–       Pedals – If you are using effects pedals in your setup it is important to remember a power supply to power your pedals or to install fresh batteries (and bring spares!).
–       Leads – When recording it is important to have the cleanest signal path possible.  A common problem is that unwanted noise can be introduced via broken or damaged instrument leads.  This is mostly represented as hum or unwanted distortion.  For this reason it is recommended to use good quality cables for your session.
–       Tuner – Remember to stick your tuner in your instrument case or gig bag! It is essential your instrument is in tune for the recording process as oneincorrectly tuned instrument can ruin a great mix.
–       Amplification – If you are using your own amplifier for your session at Resident Studios it is a good idea to perform some basic maintenance to ensure you get the best sound.  This includes checking the speaker cones are working and checking the valves and that their connections are clean (if applicable).
You also have access to our backline equipment such as amplifiers and DI boxes during your session.
If you are using a valve amplifier some tips on maintenance can be found here:
http://www.guitarhow.com/32_guitarhow_basic_tube_amp_maintenance.html
[lollum_message text="This is a message" type="alert"]