Albert Lee Returns to Resident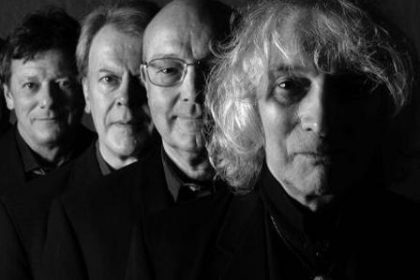 70th Birthday parties spark unpleasant thoughts of cold cuts and sherry right? Wrong! Well at least in Albert Lee's case you'd be wrong. This guitar legend is celebrating his 70th Birthday in style…with a bash at the Cadogan Hall in London. For anyone unfamiliar Albert is considered by many musicians as one of the finest guitar players alive. Vince Gill no less says as much near enough word for word. Playing rock n roll infused country, Albert's lightning picking gained him notoriety on both sides of the Atlantic and he still enjoys a packed touring schedule both as a solo artist and with his band Hogans Heroes. When someone's able to count Eric Clapton amongst their friends you know you're speaking to someone with some serious musical pedigree.
So why are we talking about Albert Lee? Well, he and the Hogans Heroes guys are frequent visitors to Resident for pre-tour rehearsals and recording new material. It's been several months since their last stint here but news of Alberts Birthday celebrations seemed like as good a reason as any to spread the word. Their last stop here was in the middle of yet another busy touring schedule, using a few days off the road to record new material for their forthcoming album. The band band Hogan's Heroes were founded by Gerry Hogan, master of the pedal steel, Peter Baron on drums and vocals, Brian Hodgson on bass and vocals and Gavin Povey on piano and vocals.
Watching this incredible group of musicians was an honor for us here at Resident Studios.
Their professionalism, musicianship and experience in the industry has been oozing down the studio walls since! Watching Albert Lee ripping blues fuelled solos so effortlessly – take after take – has been a particular highlight. Awe-inspiring!
Find out more about Albert's going on here:
[vsw id="5JNeIZIb_-g" source="youtube" width="560″ height="315″]