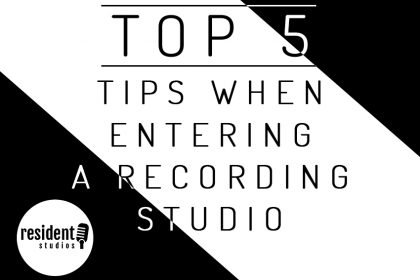 Entering a recording studio can be really exciting, but it's important to have your head about you and know some universal studio etiquette as well as ways of making your session as productive and stress-free as possible!
These 5 tips are here for you to get the most out of your recording studio experience, both at Resident Studios and any other studio for that matter!
1. Understand Your Budget
It's important to be realistic when it comes to spending money on your studio recording session. It's easy to get carried away with your money when recording and assume that the more money you throw at your project, the better it will turn out. Although this can be true in some cases, this is in no way a universal rule. Especially in this day and age of recording, we are seeing artists who have recorded songs in home studio environments hit the big time! For the majority of these cases the secret ingredient is a strong ethic and plenty of time to tweak to perfection. In a recording studio, time is normally limited and it's important to have real focus to ensure a highly productive session. A low budget recording doesn't automatically result in a poor recording if the artist is willing to work their socks off to produce the best possible performances in the studio.
2. Know and map your songs
The most productive sessions are always the ones where the band/artist knows their songs extremely well. Knowing your songs well and being well rehearsed before entering the studio means that the tracking time for laying down all the main song components can be done extremely quickly. Making decisions regarding arrangements, tempos, key signatures will save one hell of a headache in the studio where you know you are paying by the hour. At Resident Studios we recommend preparing a simple home demo recorded on garageband or even just as a phone memo to ensures you have an idea of how the song flows. Mapping the song in written form on paper is also massively helpful.
3. Be Prepared
It's a good idea to discuss with your band / musicians / engineer and/or producer about how you want the overall record to sound. This is where knowing your influences is really helpful. It's a good idea to send an email, text or have a phone discussion what your influences might be and how some of the elements from these influences can help shape the sound of your record. Another good idea is too create a Spotify playlist with a set of some of your favourite songs to ensure everyone involved with the project is familiar with the vibe you are aiming for.
4. Practice, Practice, Practice!
This tip is kind of obvious, PRACTICE LOTS! The more you practise and rehearse your songs before you enter the studio, the better your recordings will sound. The tracks will glue together better, sounding really tight and professional. It will also speed up the pace of your sessions, saving you money in the long run!
5. Focus
Remember that recording studios are for recording. The less time you spend messing around in the studio will pay off after you hear your final record! Experimenting with new sounds and elements for your song is often very important and can take a track to the next level. However, it is a good idea to save these nuances till last after all the tracking of your main components is done. It's easy to get side-tracked in the studio, so try and make sure all the core elements of your song are in place first.
Resident Studios is perfect for those who wish to record for the first time or if you're a fully fledged recording artist already! We have the gear and the expertise to make your recording sound great!
Ring us at 0208 830 4321 to let us know how we can be of help!