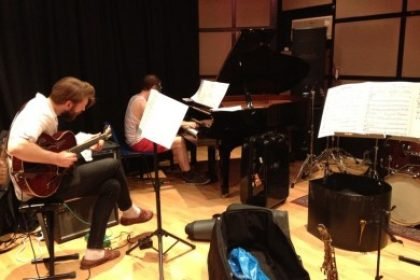 We love a bit of jazz so we do. There's something refreshing and soothing about the sound of a double bass ebbing through the foyer on a warm day. It's in stark contrast to the usual guitar based bands that dominate rehearsal studios but I guess our grand piano draws in such a diverse range of artists and it certainly keeps things interesting and varied for those of us working here.
So we welcomed Tommy Andrews and his fellow musicians into Studio 1 for some rehearsal time earlier this month in preparation for getting into the studio and recording. As pro's, the quintet simply got in, closed the door and got on with fine tuning the pieces to be recorded. Making full use of the Yamaha C3 Grand Piano and the wonderful acoustics of Studio 1, there was little more for us at the studio to do other than sit back and enjoy the music.
You can find out more about Tommy Andrews' various projects including the quintet via the below links.