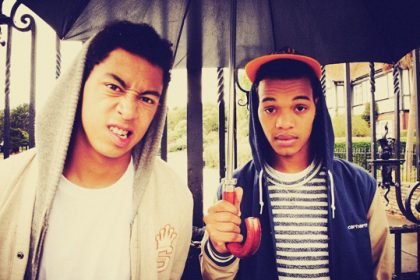 Rizzle Kicks's old school feel good hip hop hit the charts in 2011 with debut studio album Stereo Typical. It was a top 5 smash hit and reached platinum status no less. The duo embarked on a roller coaster tour of promotion, TV appearances and of course plenty of shows. Barely into their 20's Jordan and Harley soon found themselves headlining festival stages, playing Brixton Academy, The Roundhouse and the Royal Albert Hall. They've worked with some of the biggest names in UK pop of the last few years including Olly Murs and Ed Sheeran before releasing second album Roaring 20's in September, reaching number 3 in the UK album charts.
Now you've had the extremely brief history lesson you'll understand why the guys chose to rehearse a set of chilled out Christmas themed tracks at Lodon's finest studio's this week. The guys have a live performance on BBC's Radio 2 today (Wednesday 4th December) that they were tightening up on in the fabulous Studio 1.
You can keep up with Rizzle Kick's goings on via the links below. In the mean time enjoy the video for their biggest selling single Mama Do The Hump.