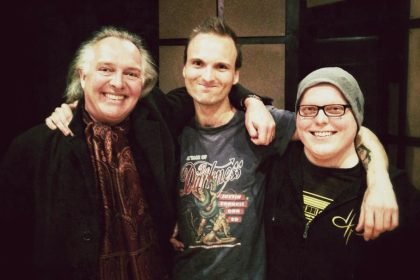 If over 13 years of business we've seen a lot of famous faces come through the studios and we usually know who to expect but Rik Mayall showing up last week was somewhat of a surprise. The veteran comedian and actor will be a household name for all but the youngest generation having starred in Black Adder, The Young Ones and Bottom to pick just a couple of the hundreds of possible shows he's been in.
Last week however Rik joined Baz from Egham based rock band Magic Eight Ball along with producer Dave Draper to record him performing some voiceover parts for the forthcoming second album. Magic Eight Ball have been writing and gigging since 2006 with a series of singles and EP's released prior to the well received debut full length Sorry We're Late But We're Worth It that came out last year on Magic Cat Records. Reminiscent of early Manic Street Preachers, Baz and Robbie of Magic Eight Ball along with Rik's distinctive voice could be onto something with their 2nd album.
More info about Magic Eight Ball can be found via these links.