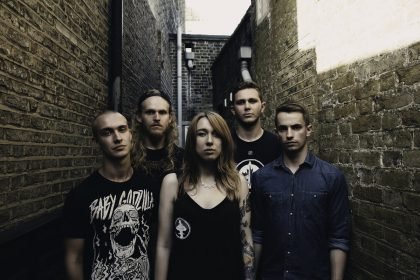 So it's the 30-year anniversary of Metal Hammer Magazine, and they are celebrating by releasing a brilliant new covers CD featuring the likes of Korn, Asking Alexandria, Hacktivist and also EMPLOYED TO SERVE.
Employed To Serve have shown that they are one of the UK's premier hardcore bands with their latest, hugely popular release 'Greyer Than You Remember' back in 2015.
For this celebratory covers album, the band decided to cover 'Memphis Will Be Laid To Waste' by Norma Jean. According to the band's lead vocalist, Justine Jones: "We chose this because [2002's] Bless The Martyr And Kiss The Child is one of our favourite albums."
The session was engineered by our very own Tom Hill (www.thomashillrecording.com) during an overnight 9pm-5am session. You can check out the track in their video-diary music video below.
The full tracklist is as follows:
Korn – We Care A Lot (originally by Faith No More)
Asking Alexandria – Duality (originally by Slipknot)
Devin Townsend – Fast As A Shark (feat. Wolf Hoffmann of Accept and Fredrik Thordendal of Meshuggah) (originally by Accept)
New Years Day – mOBSCENE (originally by Marilyn Manson)
Sabaton – Kingdom Come (originally by Manowar)
Katatonia – Night Comes Down (originally by Judas Priest)
Cane Hill – We Die Young (originally by Alice In Chains)
Hacktivist – Break Stuff (originally by Limp Bizkit)
Wilson – Sleep Now In The Fire (originally by Rage Against The Machine)
The Qemists – Blind (originally by Korn)
Employed To Serve – Memphis Will Be Laid To Waste (originally by Norma Jean)
Counting Days – Disciple (originally by Slayer)
Stoneghost – I Disappear (originally by Metallica)
Mammoth Weed Wizard Bastard – Scum (originally by Napalm Death)
No Consequence – The Pot (originally by Tool)