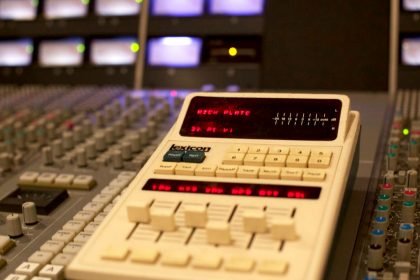 'Resident Picks' is a new blog feature where we shine a light on some of the favourite instruments, software and gear available across our studios…
Developed during the early 1980s, Lexicon's 224XL reverb unit was state of the art for its time. Built with the finest technology available, this was one of the world's first digitally powered effects processors. Three decades on and despite great advancements in music technology, the 224XL is still a staple for many recording studios at the very cutting edge of their trade.
Once upon a time you had to go to elaborate and impractical lengths in order to create realistic acoustic environments (e.g. costly acoustic chambers, large metallic plate reverbs etc.), but that all changed in the 1970s when affordable digital reverb hardware hit the market. Offering a cheaper and more practical alternative to the unwieldy and monstrous EMT 250, the Lexicon unit quickly became an industry staple. Even after all this time the technology has yet to feel dated and the unit remains so popular that software developers Universal Audio have developed a plug-in emulating the 224XL.
Well renowned for it's hyper-realistic room sounds, the 224XL succeeded in creating synthetic 'spaces' through complex algorithms and multiple delay lines. Installed in our flagship recording studio and paired with Lexicon's calculator-esque LARC remote, the 224XL has been a constant in pop and rock music for the last thirty years (check out U2's Unforgettable Fire, and Peter Gabriel's So).
Testing out the 224XL's Room Programmes:
It's the perfect tool for the dub technicians out there: