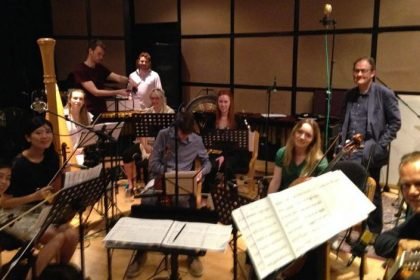 The ANIMA Collective have been in the studio to record five sequences composed by the very adaptable Andrew Keeling.
Having worked together on the Mechanika project ANIMA founder Chris Roe ran last year, Andrew got back in touch to enlist the innovative orchestra's services for a new project. Occupying our primary recording studio and the adjacent live room, ANIMA and Mr Keeling spent a day recording for the latter's upcoming album, bringing with them a whole host of instruments, including an impressive harp.
A collective of likeminded composers, musicians and animated filmmakers, ANIMA has a clearly defined mission statement. Setting out to "explore the profound relationship between music and film", their unique approach allows audiences to experience orchestral composition and animation in a whole new light. Sometimes stirring or sombre, other times with an element of humour, the live performances seem captivating at the least.
Andrew Keeling on the other hand is a true veteran of the orchestral circuit. With a mammoth list of credits to his name, it's safe to say that this guy knows a thing or two about composing and arranging. Back together after collaborating last year, we're really looking forward to hearing how ANIMA will bring Andrew's rousing and emotive compositions to life.