Resident Studios was fortunate enough to host a hugely dynamic writing session in Studio A, with Elisha Blue & Rick Leon James and engineered by one of our most experienced engineers, Caradog Jones.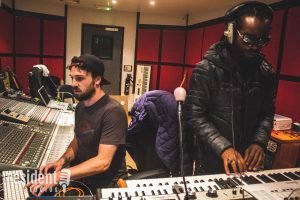 Upon first meeting Rick, who donned sunglasses and his signature pendant, it was obvious he was the real deal. Most famous for his unparalleled skills on the bass guitar (with jaw dropping credits from the likes of Amy Winehouse, Tinie Tempah, Daniel Bedingfield, Alesha Dixon, Wretch 32 and Plan B's forthcoming album), this session was dedicated towards showing of his skills on the keyboard and synths.
With much of the material (mainly Guitars & Drums) for the new song previously demoed by Elisha Blue it was a privilege to watch Rick improvise Keyboard parts over the top which seemed to fit so seamlessly. Following this Rick shifted to using the MicroKorg Synth with a Shure SM7b plugged into it for use of the Vocoder.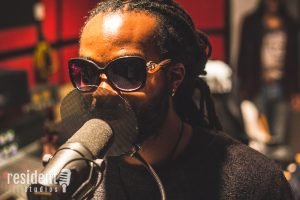 By this point in the session there was a clear energy felt by everyone in the studio. The electric atmosphere reached new heights as Rick laid down some brilliant and unique sounding Vocoder tracks, undoubtedly taking the track to an entirely new level, an impression clearly seconded by Elisha's elated laughter at what was taking shape in the room.
It's going to be exciting to hear the progression of the track throughout future sessions!
Find out more about these guys here: