Noam Galperin (noamgalperin.com) is a fantastic Israel-born composer, arranger, pianist and singer. Much of his genius can be heard on his youtube channel here.
For this particular project Noam has created some fresh new arrangements of some classic christmas songs. Noam has a heightened ear for detail and did not shy away from ensuring his phenomenally talented string quartet delivered an upmost excellent performance whilst also ensuring that all the musicians and session engineer Ian Hansen (hansenrecording.com) enjoyed the session and were given the space to express themselves creatively.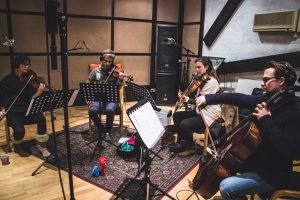 You can check out the final recording below, and don't forget to support the great cause on their JUSTGIVING PAGE.