Gold Wolf's edgy noir video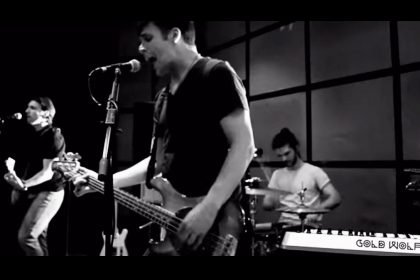 We were stoked to have indie-rock trio Gold Wolf sharing their block rockin' beats with us, this time shooting a video.
Local guys Tom, Dan and Ross got together in February 2013 and have played a steady string of gigs across the London indie circuit. The three-piece powerhouse has been described as "zippy indie-pop, combined with some post Radiohead introspection, but all-in-all upbeat, meaty, beaty, big and bouncy". We'd have to agree.
This year, Gold Wolf have evolved and matured, creating new material with a rock and roll edginess, making them an exciting band to watch. Seemingly not afraid to mix it up, amalgamating styles from across the Atlantic with UK indie and Brit Pop. Their sound is infectious and classically timeless.
Check out their recent video, Joanne Joanne, filmed in Studio One.
With a European Tour under their belts, Gold Wolf are performing their next gig on November 19th @93 Feet East, London E1 . A chance to hear their honed harmonies and check out a cool band having a blast.
You can probably tell this is our kind of music. Now, what would they sound like through our new SSL?