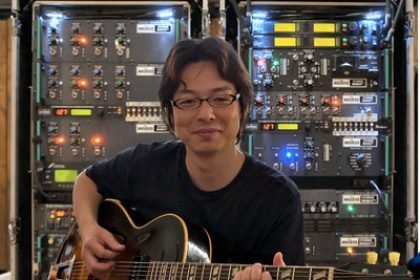 This Sunday we had the pleasure of welcoming Yukihiro Hayashi, owner, head designer and president of world-renowned Free The Tone guitar pedals, along with the blues stylings of guitarists Ramon Goose, Matt Schofield, and Mick Taylor to Resident Studios. They spent the day in Studio 3 test driving Yukihiro's new prototype delay pedal, influenced by the legendary TC Electronics TC 2290 digital delay, as well as having fun with all of FTT's current production models.
Yukihiro, a native of Japan, has an impressive (to say the least) resume of developing and designing pro audio equipment since the early 90s. He became a representative of Free The Tone at the same time as joining Pacifix Ltd, where he was responsible for developing and manufacturing their main brand of Providence products. 'Yuki' has sustained a long career of working with top Japanese musicians, from being a guitar tech to designing ground breaking systems.
Having separated from Pacifix Ltd in 2011, Free The Tone became an independent company. Their website features a list of their innovative products as well as some background info on the company. You can also keep up to date with any Free The Tone news through their Twitter and Facebook.