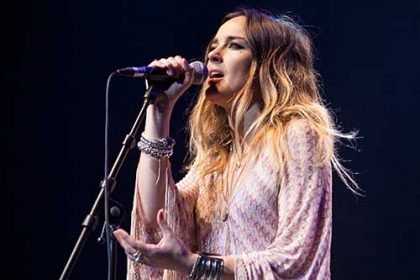 The cold, bleak winter we had seems like an age away now that we've been basking in 30 degree heat for 2 weeks but her recent appearance on Radio 1 brought back memories of Jess Mills' somewhat intense few hours in the studio with us back in December.
For those unfamiliar, Jess is an exceptionally talented singer and songwriter who has been picked up by Island Records and produced a few singles before locking herself away to write and record her debut album. The most recent single "For My Sins" saw the light of day nearly a year ago so it's with eager anticipation that we look out for a full album of dark dance-pop to emerge. Amongst the writing of her own record, Jess seems to have been busy lending both her voice and writing skills to various other artists, including most recently the single "Storm" by Phaeleh which you can see here.
So back to December…We had a relatively short notice and surprisingly intense 3 hour booking with Jess to demo vocals for Wiley's early 2013 smash "Reload". In the short space of time Jess barely came out of the vocal booth, laying down something nearing 50 layers of vocals lines covering off alternate ideas and harmonies before shooting off to her next appointment. Engineer Caradog Jones had the task of editing and mixing everything together for the 4 or 5 hours that followed. To this day we're not 100% sure what the recording was used for as Jess isn't the featured artist on the final release but it was certainly an education for us all in totally focused professionalism within such a short amount of studio time.
This is Jess' last single, you'll surely hear of the album emerging soon enough.
[vsw id="QcAo8vAGXsc" source="youtube" width="560″ height="315″]