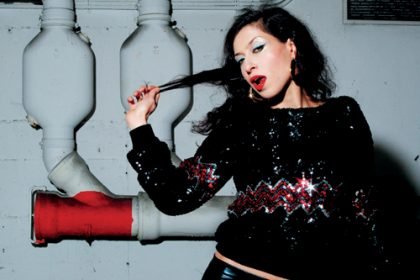 BBC Persia entered the studio with their film crew this January to capture a live performance of striking Persian artist, Maral Salmassi.
Maral, currently a resident of Germany, has a unique sound that she describes as "funky, playful glamour tech which is more a combination of electro, disco and old school hip hop than German Post-Minimal sounds and styles".
Maral's release "Let's Rock The Party" a collaboration with Hamburg based artists Fukkk Offf was a massive club hit, climbing to rank 2 of the Beatport Indie Dance/Nu Disco charts.
Aside from being a musician, Maral also has a significant amount of experience with running labels.  She founded notable techo label, Konsequent Records in '97 featuring artists such as Jay Denham and Cari Lekebush.  New media label, Art of Perception was also founded in '99 by Maral, an exclusive limited Soundtrack series in co-operation with Games Workshop UK for the game 'Warhammer 40,000'.  These past ventures have paved the way for Maral's latest and most exciting label, Television Rocks.  Television Rocks, is a platform for both artists solo projects and their friends AcidKids, Fukkk Offf, The Sneekers, The Sexinvaders or Tenderlions.
Maral's debut album is reported to be complete and destined for release this year!
Keep an eye on BBC Persia for the live videos with audio recorded and mixed by Resident Studios engineer Adam.
Facebook: http://www.facebook.com/maralsalmassi
MySpace: www.myspace.com/maralsalmassi
Soundcloud: http://www.soundcloud.com/maralsalmassi
BBC Persian: http://www.bbc.co.uk/persian/tvandradio/2011/10/000000_ptv_maks_gel.shtml
[vsw id="rzxPULaBzX4″ source="youtube" width="425″ height="344″ autoplay="no"]