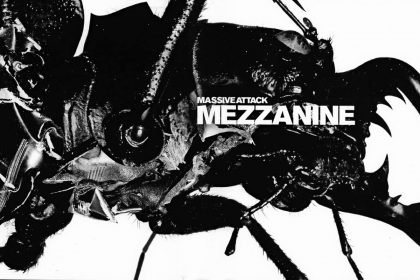 We've seen all sorts pass through our doors over the years and production methods have often varied from client to client. While the world of production, engineering and mastering is constantly moving forward and great advancements in the technology available are always being made, many great records have been produced using tools and methods of yesteryear, often misused and manipulated with the view to achieving a particular sound. No one approach should be favoured over the rest however and many of our favourite albums have made use of both new and old to excellent effect. It was tough to pick just eight, but after making some difficult omissions we've managed to compile a list of long-players we love for the production.
Nine Inch Nails – The Fragile [Interscope Records]
According to co-producer Alan Moulder, frontman "Trent [Reznor] didn't really know what he wanted the record to sound like". With significant advancements in technology since the release of the critically acclaimed Downward Spiral, the innovative techniques employed by Reznor on the preceding album (sampling, resampling and changing sampling rates) could now be achieved via plugin. This meant a change in approach was required in order to stay ahead of the chasing pack as Reznor and Moulton looked to push their production process into unchartered territory for NiN. Hammering out ideas before quickly moving on and spending a great deal of time overdubbing, cutting and pasting and then mixing, a lot of retrospective changes were made throughout the recording process and the final product stands out as one of the most ambitious industrial rock albums to see the light of day.
Steely Dan – Aja [ABC Records]
Nearly every Steely Dan release boasts some incredibly polished production, but Aja may just pip the likes of Gaucho to the crown as the best of a very good bunch. Despite hailing from New York, there's an unmistakable whiff of Los Angeles pervading throughout (hardly surprising considered it was recorded in the Californian capital) and the 1977 bestseller isn't just considered a fine example of production for Steely Dan, but one of the most sonically impressive creations ever to grace humanity's eardrums. With sonic clarity and mix balance that's unrivalled, Gary Katz (the man also behind album productions for an impressive list of artists that includes Diana Ross and Joe Cocker) outdid himself here.
Sigur Rós – Kveikur [XL Recordings]
This Icelandic four-piece have quite the reputation after releasing seven albums in just over fifteen years. That's quite prolific, especially when you consider the high standards fans have come to expect. Bringing their distinctive brand of ethereal post-rock to the table for the 2013 release, Kevikur, the Reykjavík natives have pushed their sound in a more vigorous direction. Self-produced by the band, the mood and tone of the album is achieved through plenty of overdubbing in Logic, the use of various sound design tools courtesy of Folktek and the innovative exploitation of cheap and dated technology with lo-fi and unconventional techniques. There's so much going on it's quite amazing that they successfully maintained sonic clarity throughout.
Massive Attack – Mezzanine [Virgin Records]
The third and most commercially successful studio album from seminal trip hop outfit Massive Attack is widely regarded as one of the finest long-players to emerge from the electronic music canon to date. Born out of the Wild Bunch collective, Mushroom (Andy Vowles), Daddy G (Grant Marshall) and 3D (Robert Del Naja) immortalised the hybrid sound of Bristol (still something of a phenomenon today) during the late 80s via their emotive productions and played a key role in bringing trip hop to a wider audience. Exploring a more sonorous and textured palette of sounds than previous efforts and produced by regular partner in crime Neil Davidge, this seminal album sounds just as fresh as it did around the time of its original release.
MF Doom – Mm… Food [Rhymesayers Entertainment]
This masked rapper's been a prominent figure in the hip hop underground for quite a while now. As equally proficient behind a mixing console as he is with a microphone in his hand, the man now known as just DOOM has both featured on and produced some excellent beats in his time. It's difficult to choose one from an impressive back catalogue, but the 2004 release Mm..Food is one of his finest albums thus far. With Madlib joining DOOM amongst the names with a production credit, the record littered with the customary samples taken from vintage superhero cartoons has an organic feel. Always playful and experimental, there's an air of the late, great J Dilla on this one.
The Roots – Undun [Def Jam Records]
If you're looking for a well produced effort from the Philadelphia natives you can have the pick of their discography, but if we had to choose a favourite, it's probably Undun. When Questlove and co. aren't busy working as the house band on "Late Night with…", they're making some damn fine music. Produced in its entirety by the aforementioned bandleader and various guests, the overall tone is polished to the standard of a pop record. With a degree of subtlety in the production techniques used and a masterful use of space throughout, Undun isn't just an innovative concept album (telling the story of an unfortunate soul over the duration), but arguably the band's finest works from a production perspective. It may not be their magnum opus, but in the words of Questlove himself, "Our production can't get better".
D'Angelo – Voodoo [Virgin Records]
Born and bred in Virginia, D'Angelo's been breaking hearts and taking names for two decades now. The neo-soul and R&B crooner took a fourteen year hiatus before returning with the excellent Black Messiah in 2014, but we're taking a moment to look at an album cited by many as a landmark release in the development and evolution of neo-soul. Released in 2000, D'Angelo took the reins for most of the production on Voodoo (with a little bit of help from DJ Premier and Raphael Saadiq) and served up something a little more intrinsic than 1995's Brown Sugar. Audio engineer Russell Elevado took care of the recording and mixing processes, employing analogue gear to achieve a vintage sound imbued throughout, while every track bar 'Untitled (How Does It Feel)' was recorded live without any overdubbing (something unheard of in R&B production at the time).
Phoenix – Wolfgang Amadeus Phoenix [V2 Records]
After working with Phoenix on their debut album, Philippe Zdar (one half of French house duo, Cassius) got back in the studio with the band to co-produce their fourth long-player. Encouraging the band to employ "synths, piano, samplers" and the like, Zdar tried to move away from the traditional methods of band recording that had been overused since the 60s, instead making use of production gear that spans generations (from Neve compressors and Massenburg equalisers to an SSL console not too disimilar to the one we have installed in Studio A). The end product won Best Alternative Music Album at the 52nd Grammy Awards, and for good reason too.
Our in-house engineers are incredibly well versed in a wide variety of production techniques, so get in touch if you have any queries. You can see the team in full here.