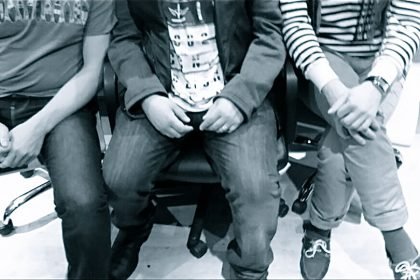 Unsigned London rock/pop band About:Blank spent 4 days in Studio A recently for a recording session with Senior Engineer Chris Brown. It was About:Blank's first time in the studio and they managed to raise the money for the session via a Crowdfunding campaign. This allowed them to raise some awareness of what they've been up to and make a great sounding, professional quality record with one of the best engineers in the business.
Chris Brown is our Senior Engineer here at Resident Studios and he is available for booking through the Platinum Recording Package. He is extremely experienced with 10 years working at Abbey Road as Senior Engineer behind him. During his career he has worked with a wide variety of high profile bands and musicians from Muse, Radiohead and Metallica to Ronan Keating and Spice Girls but that's no reason he should be out of reach for great up and coming bands like About:Blank. The recordings sound great, we're looking forward to seeing these guys getting picked up by a record label soon.
Make sure you check out About:Blank's Facebook or Twitter page to keep up to date with what they've been working on and where they are playing next.
The band don't have any official videos up yet so this will have to do for some entertaining viewing for now and it has a snippet of some of the recordings done here: