Find out more
UNSIGNED DEALS
Are you currently an unsigned band looking for your big break? Then come and do your demo at one of London's finest recording studios. Find out more about the special deals we have for those that pay with their own money.
MUSIC VIDEO PRODUCTION
Resident Studios is an amazing location for all sorts of filming, from TV adverts and interviews to live sessions and music videos. We have played host to most major broadcasters including BBC, MTV, ITV, Sky and Channel 4.
Welcome to Resident, amongst the finest recording studios in London.Talk to us.0208 830 4321
What's been happening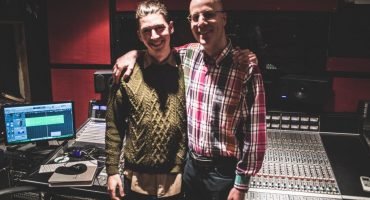 Read more +
23 February 2017 in Studio Stories
WHAT WE CAN DO FOR YOUR MUSIC
RECORDING
Resident are a suite of high quality and acoustically treated recording studios. London is blessed with a few very fine recording studios, and we are proud to be among them. With a variety of control rooms and live rooms available, we can cater for chamber orchestras/choirs to solo projects, and we try to go out of our way to help unsigned artists and local bands.
REHEARSAL
There is a real scarcity of decent rehearsal studios in London. Resident offer three of our recording live rooms as rehearsal spaces for bands, choreography, location film shoots or simply an isolated space to practice drums! High quality PAs with active Mackie speakers, and backline from Blackstar, Orange, Trace and Marshall, amongst others.
VIDEO PRODUCTION
It is now taken for granted that the good public want to see their artists as well as hear them. At Resident, we offer a package of high quality music video products to suit your budget. This can be much more affordable than you may think, and the HD quality is staggering. See the link above for more information, and get in touch.
MASTERING
The mastering process happens after the final mix has been cut, and is vital to that commercial sound quality that is expected for release. The subtle changing of levels, EQ, harmonic saturation and effects acts like 'glue' for the track, making it far more cohesive and radio-ready. There is a real art to successful mastering, and at Resident, we are rightly proud of the expertise of our engineers.
What they say...
Well don't just take our work for it, see what are happy clients are saying.
I've worked in a lot of studios over the years but the results I got from working in your studio were far better than any other. Tobi is a fantastically talented engineer and really got the best out of the track

It's always such a pleasure rehearsing at Resident Studios - the staff are brilliant and always happy to help. We often rehearse at Resident Studios as it ensures a great rehearsal in a great environment

We rehearse in Studio 1 a lot and recorded Mother's Talons with Joe Watson, he's totally professional and the live room there is amazing, the drums sound huge!