Studio Two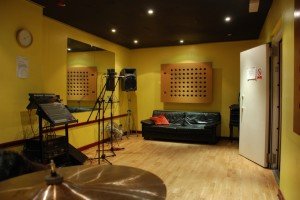 One of our most popular rooms is Studio Two, 330 sq ft of clean halogen lit, climate controlled rehearsal space, with a sumptuous leather sofa. The room has the added advantage of offering two sets of mirrors, and as such can be used for choreography and general vanity.
Equipped with a pair of fantastic Mackie SRM 450 speakers – 800W of powered brilliance – and 24 channel mixing desk to accommodate all requirements, Studio Two is a great room for most groups. We've had artists of up to seven people happily rehearse in here, although it is best suited to your average sized band.
As will all our rehearsal rooms, backline equipment (drums, guitar amps, bass amp, keyboard) is available to hire, just specify what you require when booking or when you show up, our staff are happy to help.
Contact us now to book into our rehearsal or recording studios in London.
CLICK HERE FOR REHEARSAL RATES
NB: Studio Two is located on the ground floor directly below Studio Three. Although significant sound proofing has been installed (including a floating floor in Studio Three) there may be some audio bleed from Studio Three if a particularly loud band is rehearsing there.
Find out more about rehearsing at Resident Studios. Please be sure to leave your phone number as well as email, only by talking to our staff directly can you discover what we can do, and the best deals.